Home
»
Drain & Sewer Jetters
Van Mounted Portable Trailer Jet
Van Mount Sewer & Drain Jets
7 to 11.5 Gallons Per Minute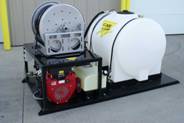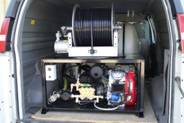 Cam Spray's van mount sewer and drain jetters include all the same great features as our trailer mounted models, but are designed to fit into the back of a van or on a flat bed truck. The water tanks on our van mounted trailer jets are equipped with drains and float switches to shut the machine down automatically in case of low water. Machine controls include large pressure gauges for monitoring system pressure and high pressure valves for water flow.
The 12 volt, DC-powered reels on our van mounted sewer and drain jetters feature 2:1 drive systems with locking pins on the reels. Reels allow for free spooling of the hose while going into the drain, and powered assist when retracting the hose from the drain. Reels are activated by push button switches on the reel motors or remotely by using the included foot switch.
For cold weather operation, Cam Spray has made water recirculation easy. Simply remove the nozzle from the jet hose, attach the quick coupler plug, and connect the hose to the recirculation coupler on top of the tank.
Cam Spray's van mounted trailer jets come standard with:
Set of 4 nozzles (laser, degreaser/deicer, monster mole, and flusher/ram)
Tool box for nozzle storage
Nozzle tip cleaner
Tiger tail to protect your hose when entering the drain line
Safety shield, rubber gloves, and high visibility safety vest
50' wash down hose and trigger gun
Optional trailer jet equipment includes:
Rotating nozzle for pipe finishing
Root Rat and Warthog root cutting nozzles
DS200 reel cart with 200' x 3/8" hose for remote jetting
Model

PSI

GPM

H.P.

Engine

Jet Hose Dimensions

Water Tank Capacity

Dimensions L x W x H
(in inches)

Dry Weight

VM2712H

2700

11.5

27

Honda

400' x 1/2"

130 Gallons

85 x 43 x 49

800 lbs.

VM3708H

3700

8

27

Honda

500' x 3/8"

130 Gallons

85 x 43 x 49

800 lbs.

VM4007H

4000

7

27

Honda

500' x 3/8"

130 Gallons

85 x 43 x 49

800 lbs.
Remember to use adequate safety gear and extreme caution while operating trailer jet machinery.
All models are also available with diesel engines or as skid/pickup mount sewer jetters. Contact Cam Spray today for more information on our van mounted portable trailer jets and other drain and sewer jetter models.