About Us
Cam Spray is a small, family-owned company. In 1963, John and Jim Campbell purchased a local supply company known as The Manning Howell Company that specialized in farm and industrial supplies. John Campbell had worked for Manning Howell, and as Manning planned to retire John saw opportunity.
Family Values, Faith & Hard Work
John and Jim were raised in a Christian home and grew up working on the family farm with their brothers and sisters. They knew that every opportunity was a blessing from God, and the business was no different. They would establish their business on the principles that you should treat people the way you would want to
be treated. Always be fair and honest, and seek to honor God by positively impacting
the lives of employees, customers and community.
Growth comes from satisfied customers
Campbell Supply Company experienced growth during the early years, and more product lines, including industrial pumps, were added to fill customer needs. In 1971, Cam Spray became an idea through necessity. The parts needed to build a
pressure washer
were being sold to customers and they would soon be back seeking help and advice on how to assemble the product. The term "value added" found its beginning in the opportunities John saw in building pressure washers for customers. The first Cam Spray product line consisted of two models producing 3 gallons per minute at 1000 psi, the difference being the size of the tank.
Commitment to the things that matter most
Still located in Iowa Falls, Iowa, we have been blessed with growth and now offer well over 200 models of
pressure washers
,
sewer jets
, and
drain jetters
. This growth happened through great relationships, building what customers want, and many hours of hard work from dedicated employees who make sure our customers are satisfied.
Our family's third generation has been active in the business for a number of years now. We have a larger employee family averaging more than 22 years of employment, surpassed only by the length of the relationships we have with our customers. A testament to the founding principles that are still effective today, treat others how you would like to be treated.
We welcome you to the Cam Spray family and look forward to a long and satisfying relationship!
Contact us today for the pressure washer or drain and sewer jetter you need.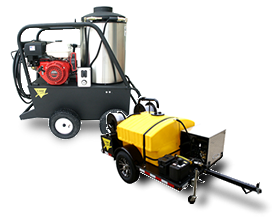 Our American made pressure washers and drain jetters are built the old-fashioned way: one at a time and tested by hand