Industrial Drain & Sewer Jetters
Hydro drain and sewer jetters are high-performance drain cleaning systems that utilize extremely high-pressured water for clearing impediments in commercial, residential, and larger sewage drains. They are comprised of an engine, pump, water tank, reel, and length of hose with various attachments to clear any clog.
For over five decades, Cam Spray has provided heavy-duty sewer jetters that are durable, rugged, and built to last. We create custom products that meet your exact work requirements, no matter your specifications. In the 1980s, we introduced the first electric-powered sewer and drain jetters on the market and have since grown our stock into a full line of hydro jetting machines.
Contact us
for more information regarding our sewer jetter product options, or call us at
800-648-5011
with any questions that you may have.
What is a Sewer & Drain Cleaning Water Jetter?
Sewer jetters, also known as "hydro-jetters" or "water jetters", are powerful drain cleaning machines that use high-pressure water jets to clear obstructions in residential and commercial drain pipes as well as larger municipal sewer systems.
Simplicity of use, safety, and efficiency of cleaning are the main reasons many plumbers, drain cleaning professionals, and residential homeowners are turning to water jetting machines for their drain sewer clearing needs.
How Does a Water Jetter Work?
A high-pressure sewer jetter consists of a pump, a motor or engine, a hose reel, a given length of hose, various assortment of nozzles and a portable water source. The jetter cleaning tool's high-pressure pump is key to delivering powerful jets of water needed to clean drain and sewer pipes. The high-pressure hose is then wound on a powered reel that enables the operator to retract the hose easily.
The pipe is then cleaned with a high-pressure water jet by directing water pressure and flow through a nozzle. Controlled water pressure and flow propels a water jet through the sewer pipe allowing it to remove and wash away the obstruction.
Cold water hydro drain and sewer jetters are the most prevalent and cost-effective sewer jetting machines currently available. Energy-efficient, durable, and featuring high-pressure capabilities, our cold water commercial or industrial drain and sewer jetters are an economical option that can handle 95% of sewer jetting jobs. Our stock includes:
Hot water drain and sewer jetters provide an effective way to melt ice and grease quickly with water temperatures up to 160° F. Other advantages include:
Increased cleaning ability
Eliminates or reduces detergent expenses
And more.
At Cam Spray, we can design and build the best custom drain and sewer jetting machines that have the capabilities to fulfill your exact requirement needs. Whether you need a specific size for your truck, a precise PSI requirement, or have a particular water flowage need, we have the design-build expertise required for custom power jet drain cleaners.
Commercial Drain & Sewer Jetters for Any Industry
We provide heavy-duty solutions for everyday problems in any industrial drain or sewer clearing application. Cam Spray is proud to have worked with a vast range of industries, such as:
Drain & Sewer Jetter Application Considerations
While all Cam Spray drain and sewer jetters are designed for any commercial job, every application presents its own challenges. The power level of a drain jetter is not a one-size-fits-all scenario. Underpowered equipment won't clear tougher clogs or larger drain lines. An overpowered sewer jetter hose can be hard to navigate in smaller lines and can damage the drainage system. If you're not sure what sewer jetter you need for the job, read our
Ultimate Guide to Sewer Jetters.
Transportable Hydro Jetter Options
Sometimes your application demands a sewer and drain jetter with the ability to be transported. To meet those needs, Cam Spray offers several options:
Your Go-To Custom Manufacturer for the Best Drain & Sewer Jetters
Cam Spray
is a family-owned and operated business. We hand test each product, built and assembled in America, before shipping to you. In addition to our heavy-duty drain and sewer jetters, we offer:
Our customer service team is rigorously trained and able to solve over 80% of problems in the field to keep your job running smoothly and with minimal interruption. Help is just a
phone call
away.
Contact Cam Spray for Advanced Sewer Jetting Machine Options Today
Contact us
for more information on any of our high-powered, high-performance drain and sewer jetters for commercial or industrial applications.
Request a quote
for an in-depth price analysis today.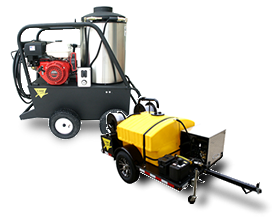 Our American made pressure washers and drain jetters are built the old-fashioned way: one at a time and tested by hand