Drain & Sewer Jetters
Cam Spray began producing drain and sewer jetting equipment in the early 1980s. During a partnership with a franchise drain cleaning company, we worked on the idea of modifying a
pressure washer system
into a drain jetter.
Partnering with pump, hose and nozzle manufacturers, Cam Spray offers the first electric powered sewer and drain jetters on the market. This has grown into a full line of equipment for sewer pipe diameters up to 20". We offer
cold water
and
hot water
models, as well as
electric
,
gasoline
, and
diesel-powered
options.
While all Cam Spray drain and sewer jetters are designed for use in commercial jobs, every application presents its own challenges, and the power level of a drain jetter is not a one-size-fits-all scenario. Underpowered equipment won't do the job for tougher clogs or larger drain lines; an overpowered sewer jetter hose can be hard to navigate in smaller lines and can damage the drainage system. Fortunately, we offer industrial sewer and drain jetters in a range of sizes and power levels. Whether the drain line is two inches or 20 inches, Cam Spray products can easily take on the toughest clogs.
Since 1982, Cam Spray sewer and drain jetters have cleared the way for the line cleaning industry. We offer sewer jetter systems in gasoline, diesel, and electric-powered configurations and models that use cold water or can heat the water to 160°F.
Our compact,
portable sewer and drain jetters
can fit in the trunk of most cars for easy transport. Our larger
trailer mounted sewer jetters
are designed to be pulled behind a vehicle.
Van, truck, and skid mounted drain and sewer jetters
let you bring commercial-grade cleaning power wherever you need it with the convenience and portability of a utility truck or enclosed van.
If you are wondering what size of jetter you need to consider, take a look at the information below. You will find that the flow of the machine has a lot to do with the size of drain and sewer lines you can navigate. The operating pressure that is delivered in the drain also plays into how long into the drain lines you can clean as well. The old phrase "more is better" is true to some degree in choosing your machine. We hear customer success stories of doing a big job with an undersized machine but more often than not greater flow and pressure win out. The experience of the operator, power of the machine, hose size and length, number of elbows in the line and condition of the line will impact your jetting results.

2 gallons per minute, up to 3" average pipe size range
3 gallons per minute, up to 4" average pipe size range
4-8 gallons per minute, up to 6" average pipe size range
10-12 gallons per minute, up to 10" average pipe size range
15 gallons per minute, up to 16" average pipe size range
18-20 gallons per minute, up to 24" average pipe size range
35 gallons per minute & greater, up to 36" average pipe size range
Contact Cam Spray
for more information on any of our high powered, high-performance drain and sewer jetters.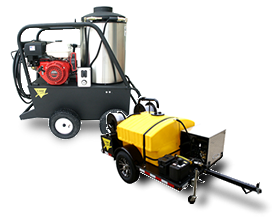 Our American made pressure washers and drain jetters are built the old-fashioned way: one at a time and tested by hand