Industries Served
We offer solutions to everyday problems
Cam Spray products are built with the operator in mind, so they are dependable, easy to use, and make your work day easier. The products we make serve so many industries it's hard to name them all. Whatever industry you're in, we have a product for you. If our stock models don't meet your needs, we can build a
custom pressure washer or sewer and drain jetter
to fit your requirements.
Tested & proven by leaders in the industries we serve
For almost 50 years, we have been building relationships with the industry leaders. Much of the equipment we've produced over the years has been built for companies with their specified colors and labeled to be sold to their dealers and customers. That may be why our products look familiar.
Large companies in the Agricultural, Automotive, Construction, Industrial and Janitorial industries rely on Cam Spray know how to build, support, and service the
pressure washers
and
sewer jetting
products they sell. These Original Equipment Manufacturers (OEMs) take advantage of our private label opportunities to fill their product lines to their exclusive dealers and customers. Many of these relationships started almost 50 years ago and are still thriving today.
Lean on us for help making the best decision
When you call us, we will take the time to talk about your application and specific needs. We take this time to be sure you are most satisfied with your product selection. Once you have determined the product you are interested in, we will match you up with an industry professional in your area that can sell and support your equipment.
Contact us
today!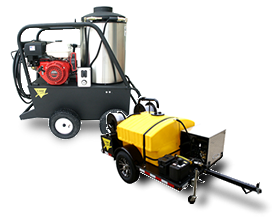 Our American made pressure washers and drain jetters are built the old-fashioned way: one at a time and tested by hand