Industrial Strength Pressure Washers
High-intensity commercial power washers utilize extremely pressurized water to perform a wide range of cleaning, construction, and paint removal tasks. The power rating of a standard or commercial pressure washer is measured in pounds per square inch (psi), and the volume of dispensed water is either expressed in liters or gallons per minute. Ultra-efficient power washers have the capabilities to turn a tough, timely job into an easy-going fun job.
Cam Spray pressure washers are assembled in the heartland of the USA by people that have been dedicated to your satisfaction since 1971. We have made it easy for you to find you next pressure washer. Just start here by choosing if you would like a
Hot Water Pressure Washer
, a
Cold Water Pressure Washer
or if you would like to explore the possibility of a
Custom Built
model. Cam Spray builds a product to fit your application in hand carry, cart mounted, wall mount, skid, and trailer model.
Commercial Pressure Washer Applicable Uses
Depending on your specific application, one type of pressure washer may be favored over another. At Cam Spray we have a wide range of power washer styles for your specific needs, consisting of: hot water power washers, cold water pressure washers, diesel pressure washers, and custom-built pressure washers.
Commercial Pressure Washer Uses:
Decks
Driveways
Sidewalks
Gutters & roofs
Parking lots
Siding
Driveway washer
And more
Heated Pressure Washers
When hot water and pressure are combined within a commercial washer the beneficial cleaning effects are outstanding. With water temperatures up to 200 degrees, highly pressurized hot water can cut through dirt and grime quicker and easier than cold water.
Hot water pressure washers
use a pump to pressurize water before the water is heated within the coiled steel pipes of a burner chamber. This raises the temperature of cold tap water to above 190°F in less than 2 minutes; the water will then maintain this temperature if it is actively flowing through the heated coils of the washer. If you don't need hot water for a job, a simple flip of a switch will turn off the hot water, making cleaning more economical when the job does not require hot water.
Hot Water Power Washer Benefits:
Increased cleaning ability
Eliminates or reduces detergent expenses
Saves time
Long-term cost savings
Cold Water Pressure Washers
When hot water is not specifically needed, cold pressurized water can be successfully used for a wide range of cleaning applications. Cold water pressure washers are less expensive than hot water models and are also easier and less expensive to repair. Since they have fewer components than a similar hot water model, most repairs and maintenance can be performed with simple tools and average mechanical ability.
Cold water models can also be connected to hot water supplies, with some
cold water pressure washers
having ratings for water temperatures up to 160°F. Depending on the size of the water heating source, cold water models can run in upwards of 10 to 15 minutes before running out of hot water. Cold water pressure washers pose an economical alternative to buying a hot water pressure washer if you don't need hot water for most of your cleaning jobs.
Cold Water Pressure Washer Benefits:
High-performance strength & durability
Energy efficient
Economical performance
Smaller dimensions, easier to move
Custom Built Pressure Washers
There are certain applications that require the use of a
custom built pressure washer
. These unique applications can include areas with space restrictions including narrow doors, hallways, hazardous locations and numerous other hard to reach others. Cam Spray offers custom built pressure washers that can clean areas that standard issue or diesel pressure washers cannot access. Come explore the types of custom work we have done, you may be surprised how economical it is to find your "dream machine." Some of the custom-built pressure washers that we manufacture, include:
Sewer jetting machines
Food processing
Railcar washers
Drill rig cleaning
Hydraulic powered cleaners
Contact Cam Spray for Commercial Pressure Washers Today
Contact us
for more information regarding our commercial pressure washer options, or
request a quote
for an in-depth price analysis today.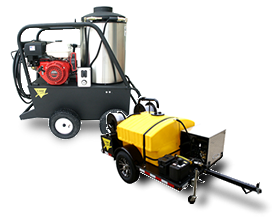 Our American made pressure washers and drain jetters are built the old-fashioned way: one at a time and tested by hand