Industrial Pressure Washers
High-intensity, heavy-duty commercial pressure washers utilize extremely pressurized water to perform a wide range of cleaning, construction, and paint removal tasks. Ultra-efficient power washers have the capabilities to turn a tough, time-consuming job into an easy-going and fun task.
Cam Spray's
industrial pressure washers are assembled in America's heartland by a team dedicated to your satisfaction. Since 1971, we have made it easy for you to find your next pressure washer by creating custom products that meet your individual specifications and hand testing each component before delivering them to you. Whether you need a hot water pressure washer, cold water pressure washer, or a custom option, Cam Spray has the products to fit your application.
With temperatures up to 200°, highly pressurized hot water can cut through dirt and grime more efficiently than cold water. Our hot water pressure washers raise the temperature of cold tap water to above 190° in less than two minutes. If you don't need hot water for a job, a simple flip of a switch will turn the hot water off. Our hot water pressure washers also feature:
Increased cleaning ability
Eliminated or reduced detergent expenses
Time savings
And more.
Our stock of industrial hot water pressure washers includes
electric powered
,
gas powered
, and
diesel powered
options.
Cold water pressure washers present an economical alternative to buying a hot water pressure washer as many cleaning jobs do not require the added heat. Cold water pressure washers are less expensive than hot water models and are easier and less costly to repair. Other benefits include:
High-performance strength and durability
Energy efficient
Economic performance
Smaller dimensions
Easily moved
We offer
electric powered
,
gas powered
,
diesel powered
, and
hydraulic powered
cold water pressure washer options.
You may find that your application requires a custom-built pressure washer due to areas with space restrictions, such as narrow doors, hallways, hazardous locations, or other hard-to-reach areas. Cam Spray offers the best custom-built pressure washers to meet even the strictest specifications. Our custom-manufactured industrial pressure washers include, but are not limited to:
Railcar washers
Drill rig cleaning
Hydraulic powered cleaners
Our industrial pressure washers will clean the areas that standard issue or diesel pressure washers cannot access.
Heavy-Duty Pressure Washers for All Industries
At Cam Spray, we offer solutions to everyday problems. Our industrial heavy-duty pressure washers stand up to the demands of any industry. We develop, manufacture, and distribute pressure washers for a variety of uses, including:
Common Applications for Industrial Pressure Washers
Pressure washers are valuable tools for any industrial, commercial, or residential application. Common uses for our heavy-duty pressure washers include cleaning:
Decks
Driveways and sidewalks
Gutters and roofs
Parking lots
Siding
And more.
The Best Custom Commercial & Industrial Pressure Washers
For over 50 years, Cam Spray has been an industry-leading, family-owned and operated business. We hand test each of our products before shipping them to you. Our industrial pressure washers are durable, rugged, and built to last. We also offer
replacement parts
and high-level customer service to keep your operations running with minimal interruptions.
No matter your work requirement, our products are made to fit your specifications, and our
training programs
will give you the expertise you need in your industrial pressure washing application.
Contact Cam Spray for Industrial Pressure Washers Today
Contact us for more information regarding our commercial pressure washers or other products and services. Request a quote for an in-depth price analysis today.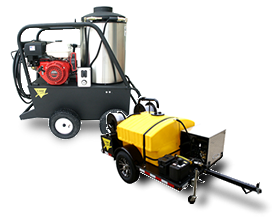 Our American made pressure washers and drain jetters are built the old-fashioned way: one at a time and tested by hand