Pressure Washers
Cam Spray pressure washers are assembled in the heartland of the USA by people that have been dedicated to your satisfaction since 1971. We have made it easy for you to find you next pressure washer. Just start here by choosing if you would like a
Hot Water Pressure Washer
, a
Cold Water Pressure Washer
or if you would like to explore the possibility of a
Custom Built
model. Cam Spray builds a product to fit your application in hand carry, cart mounted, wall mount, skid and trailer model.
Hot water pressure washers
Hot water pressure washers
are designed for those tough jobs where the hot water will clean fast, saving you time and money. Hot water will cut through grease and grime quickly with water temperatures up to 200 degrees. Hot water pressure washers use a pump to pressurize water before it runs through many feet of coiled steel pipe inside of a burner chamber. This raises the temperature of cold tap water to above 190°F in less than 2 minutes and will maintain this temp as long as water is flowing. If you don't need hot water for a job, a simple flip of a switch will turn off the hot water, making cleaning more economical when the job does not require hot water.
Cold Water Pressure Washers
Cold water pressure washers
will work for most cleaning applications and are less expensive to purchase. Cold water models are also more economical to maintain and repair. Having fewer components than a similar hot water model, most repairs and maintenance can be performed with simple tools and average mechanical ability. Just because they are labeled as cold water models does not mean you can't connect them to a hot water line. Some cold water pressure washers are rated for water temperatures up to 160°F. These models can be connected to your hot water source and depending on the size of the water heater can run in upwards of 10 to 15 minutes before running out of hot water. An economical alternative to buying a hot water pressure washer if you don't need hot water for most of your cleaning jobs.
Don't see exactly what you need? Try our custom built pressure washers!
Custom built pressure washers
are a necessity for some applications. Cam Spray has designed and built custom equipment since we started our company. We found that there are many applications that the average off-the-shelf machinery will not handle well. It may be space restrictions, narrow doors or hallways, limited access, hazardous locations, and a number of other factors that limit your ability to clean an area quickly and easily. All of these restrictions waste time and money, and, with minor changes, it would be a breeze with the right equipment. The reasons go on and on, which is why we offer custom services. Come explore the types of custom work we have done, you may be surprised how economical it is to find your "dream machine."
If you need help choosing the correct system for you please feel free to contact us!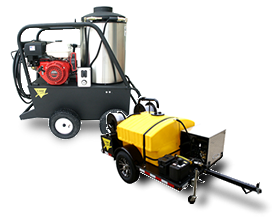 Our American made pressure washers and drain jetters are built the old-fashioned way: one at a time and tested by hand