Introducing the new TT4025HZ-350
January 25, 2017
Standard features include:
Hatz Diesel 74 h.p. turbo intercooled, liquid cooled engine with over center clutch, control panel with, hour meter,low fuel gauge, low fuel shutdown, over pressure shutdown and digital pressure readout.
Reel is hydraulic powered with variable speed and slide out with angle adjustment fitted with 500' x 5/8" hose,
manual shut off valve and analog pressure gauge.
RCM remote control is also standard, see below.
Industrial Triplex Pump with stainless valves, ceramic plungers.
Pump system protected by an unloader valve and secondary pressure pop off.
Air purge valve, 18 gallon anti-freeze tank and recirculation
for freeze protection.
RCM Wireless Remote control modes include valve open, valve close, engine idle down-15 second time delay
shut down, emergency shut down, 2 speed engine RPM control and auxiliary 10amp circuit w/on-off control.
350 gallon tank with 2 inch hydrant fill.
A 26 gallon aluminum fuel tank gives you hours of run time on a single fill.
Heavily constructed trailer with 2" X 4" steel box tube frame, full diamond plate deck, industrial coated finish,
over the fender locking tool boxes, tongue mounted locking tool box, electric brakes, DOT rated 7000# axles,
16 inch 10 ply tires with 8 bolt hubs, road ready lights and wiring, strobe light, 2 5/16" ball hitch or optional
pintel hitch and hand crank jack stand.
Standard accessories include Grenade nozzle, 4 nozzle kit with storage box and tip cleaner, tiger tail, safety shield,
rubber gloves, high visibility safety vest , and wash down system with trigger nozzle and 150' hose.
Cam Spray Now Offering Updated 2012 Pressure Washer Catalog
3 December 2012—Cam Spray, a leading manufacturer of pressure washers and related equipment, has released an expanded and updated catalog featuring their entire line of high performance pressure washer models.
Based in Iowa Falls, Iowa, Cam Spray has been manufacturing pressure washers, drain and sewer jetters, and all manner of associated equipment, parts, and accessories since 1971. Cam Spray manufactures over 180 stock pressure washer models, all built to professional-grade standards of quality and performance. Additionally, the company offers custom manufacturing capabilities to give their customers the perfect pressure washer or drain jetter for their needs. Custom OEM manufacturing and private labeling are also available. Cam Spray is a small, family-owned company that takes pride in delivering top quality products and the kind of personal service that larger manufacturers can't.
Cam Spray pressure washers have been specially designed for industrial and commercial use. Various hot- and cold-water models are available, with electric, diesel, or gas powered engines. Multiple self-contained, trailer-mounted, and truck-mounted configurations are available. Cam Spray's new pressure washer catalog contains detailed information on all of their available models, including maximum PSI, gallons per minute capabilities, engine manufacturer and size, water tank capacity, and other pertinent information. This surplus of info is intended to make it easy for customers to find the right pressure washer for their particular application.
The 2012 Cam Spray Pressure Washers catalog is available as a free download in PDF form via the company's website, and can be found at http://www.camspray.com/catalogs.php. For more information on Cam Spray and all of their high performance cleaning equipment, visit www.camspray.com.
Cam Spray Unveils 30 New Pressure Washer Models
Cam Spray has developed numerous new models, including extreme high pressure and space-saving wall mount versions, to augment their industrial pressure washer line.
11 September 2012—Cam Spray has expanded their offering of industrial grade pressure washers with the addition of thirty new models. These new pressure washer models add greater levels of performance and convenience to Cam Spray's already extensive product line.
Cam Spray is a leading manufacturer and purveyor of commercial pressure washers, wholesale drain cleaning equipment, and other industrial washing systems. The company offers hundreds of products of their own design, as well as custom models built to customer specifications, which are utilized in a broad range of applications, from agriculture to facilities maintenance to NASCAR racing. Since 1971, Cam Spray has provided quality machines that are built and tested in the USA. The Iowa Falls, Iowa-based business takes pride in producing professional-grade equipment that helps get the job done the right way, on time and on budget.
Cam Spray's new pressure washer models fall into two categories. The first are super high pressure models, with pressure ranges from 5,000 to 7,000 PSI. The nine new, gas-powered pressure washers in this category are available in several frame types, and can include hot water spray capabilities thanks to Cam Spray's specially designed, factory built heating coils. Their second new power washer category includes 21 "Economy Wall Mount Electric" models. Designed to conserve space while delivering high-powered performance, these pressure washers feature enclosed, fan-cooled electric motors ranging from 1.5 to 10 horsepower.
To learn more about Cam Spray, their economy wall mount electric or super high pressure power washers, or any of their industrial washing and cleaning equipment, visit them online at www.camspray.com.
2012 Trade Shows
Iowa Onsite Waste Water
January 11-12, 2012
Polk Co. Convention Center
Iowa Port Congress
January 25-26, 2012
HyVee Hall
Pumper-Cleaner Show
February 27-March 1, 2012
Indianapolis, IN
World Pork Expo
June 6-8, 2012
Des Moines, IA
Booth 407 - Varied Industries Building
Snap-On Franchise Expo
August, 2012
Las Vegas, NV
ISSA Interclean North America
October 16-19, 2012
Chicago, IL
AAPEX
October 30-November 1, 2012
Las Vegas, NV

New & Improved: Trailer Mounted Sewer & Drain Jetter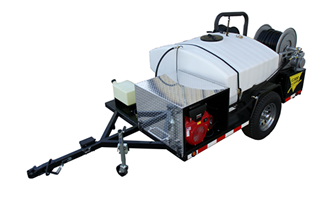 Introducing the new and improved Cam Spray STB2712H featuring more power and performance. The full featured economical workhorse from Cam Spray is now powered by the 27 h.p. Honda Engine. This new power plant produces 12 gpm at 2700 psi. Standard features include powder coated full metal deck trailer with road ready lights and brakes, 300 gallon water tank with auto shut-off, 400' x ½" hose on a dc powered reel with remote foot switch, 150' of garden hose feed and 2" hydrant fill for filling the tank. The most economical, full featured professional machine on the market! Three different models available in 7 gpm @ 4000 psi, 8 gpm @ 3700 psi and 12 gpm @ 2700 psi. See all of our models at www.camspray.com.
Cam Spray, 520 Brooks Road, Iowa Falls, IA 50126. 800-648-5011.
Cam Spray Distributors
Car Care and Auto Care Products
New Portable Drain Jet
Cam Spray has just completed the introduction of a new portable Drain Jet, the economical JS3040, 3000 psi, 4 gpm full featured drain jet. See the portable drain jetter story now.
New Trailer Jet Products
The next addition is the STB3015V, 3000 PSI, 15 GPM trailer Jet added to our growing line of economical, full featured trailer models. See more on our new trailer jetter.
Van Mount Drain Jetters, Economical Mobile Jetter Solution
Then the Van Mount models are an economical way to convert you enclosed van into a Mobile Jetter Arsenal! See our van mount sewer jetters here.
These models will be on display at the 2010 Pumper Cleaner Show to be held in Louisville Kentucky February 24-27, 2010.
Cam Spray 2008 Price List is now available. Just contact us if you would like a copy of the new 2008 Price List emailed to you.
Four New Trailer Jetters Introduced
Cam Spray has completed the design and production phase of four more trailer jetters. The four additions are the SK4007V, SK2511H, SK3012K and teh STB4018DT. These machines produce flows from 7 to 18 gpm at pressures up to 4000 PSI. These models were developed during the summer and fall of 2007 and willl be on display at the 2008 Pumper Cleaner Show to be help in Louisville Kentucky.
Cam Spray has developed a line of L.P. and Natural Gas Fired pressure washers using the forced air burner technology. Several sample models were put into service in the spring of 2007 and have been flawless in their performance. These models were monitored in 40-50 hour per week applications. Real world testing has enabled us to convert all of our L.P. and Natural Gas models to the forced air burner technology.
As you can see, we have been busy improving and adding to our industrial pressure washer and trailer jet product line to give you the ultimate "Performance Under Pressure"